Transitioning from Puppy to Adult Dog Food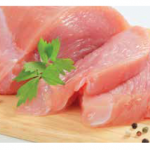 Your puppy will transition to 4 Strong Paws All Life Stages Dog Food with ease due to many of the same ingredients being utilized in both the Puppy and Adult Dog Foods. We utilize the same high quality, animal-based proteins across both formulations but slightly reduce the percentage of the proteins and fats to account for the reduced nutrient requirements of the average adult dog. 4 Strong Paws provides a complete and balanced meal of fresh meats, fish, bioavailable carbohydrates, healthy fats, whole fruits, vegetables and botanicals that will exceed both your puppy and adult dogs' nutrient requirements.
When to switch to the All Life Stage dog food depends on a variety of factors. It is best to ask your breeder for recommendations about when to switch based on your breed of dog and breeder preferences.
Please remember to transition to the All Life Stage Dog Food gradually. Start by mixing a small amount of All Life Stage in with the Puppy food. Mix increasing amounts of All Life Stage while decreasing the amount of Puppy food. The transition should take 1-2 weeks.